How much does custom logistics app development cost and what factors matter?
Operational discrepancies are prevalent in the logistics industry, leading to revenue loss. Problems like freight loss are common among large transportation companies as well as private carriers. Such issues give a major setback to logistics businesses and lead to the withdrawal of logistics businesses from the industry.
However, many businesses have been gaining impact and streamlining operations by investing in logistics and transportation app development these days. Logistics apps facilitate fleet management and allow companies to keep track of all their transportation vehicles at all given times. These apps allow real-time tracking of the status of a single shipment or the entire fleet.
Logistics apps that are scalable, and feature-packed lead to giving greater returns to the companies in comparison to the investment they make into getting such an application. If getting a custom-made logistics app is on your mind, this blog is for you. Here, we will walk you through different types of logistics apps and the factors that determine the cost of these apps.
Different types of on-demand logistics apps
Every business has unique goals and requirements that call for custom-made digital solutions that cater to the exclusive needs of that business. Here is a broad classification of on-demand logistic apps into 4 major categories.
a. Fleet management app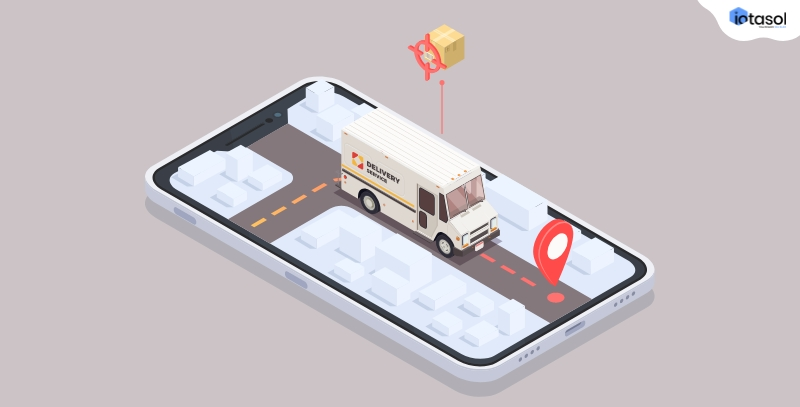 Fleet management app allows companies to keep a track of the vehicles they own and operate. Logistic companies can maintain complete data about their vehicles and drivers using this app. A centralized system facilitates proper management and coordination of all the vehicles in an easy manner.
Fleet management apps allow the better organization, thus leading to reduced costs. Safety is yet another big perk offered by a fleet management app as any accidents and emergencies can be quickly reported to the appropriate personnel and adequate help can be sent immediately. This way, safety is ensured and deliveries are not affected.
b. On-demand logistics app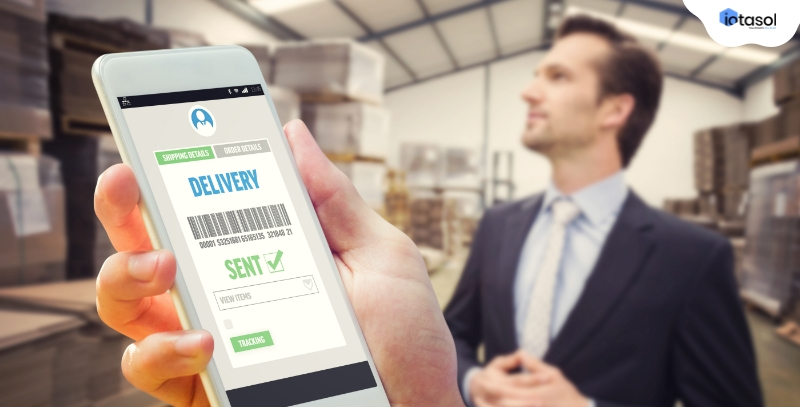 On-demand logistics apps cater to the needs of delivering goods as per the requirements of individual customers. For example- Getting your household stuff shifted to the new city you are relocating in. An on demand logistic app fulfils the needs of the customers as well as helps in building a sense of credibility for the company offering the service.
c. Warehouse management apps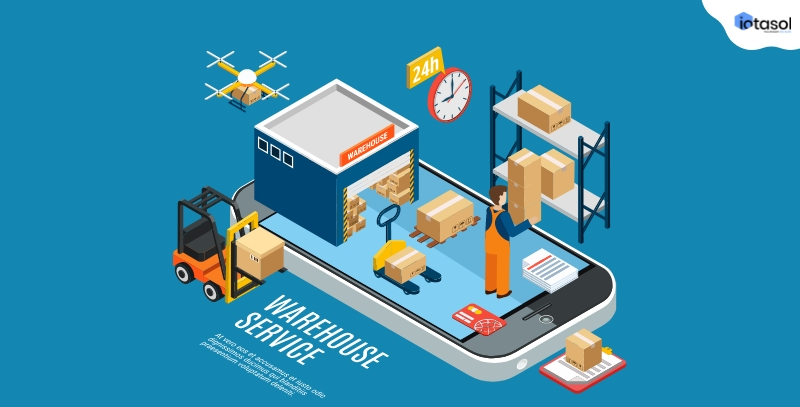 Warehouse management applications maintain track of the inventory status in single or multiple warehouses of a company. It helps in giving many useful business insights to owners. Employee management, better security with quick risk analysis and theft prevention, and clarity on the status of work in progress are some of the perks offered by a warehouse management app.
d. Tracking and forwarding applications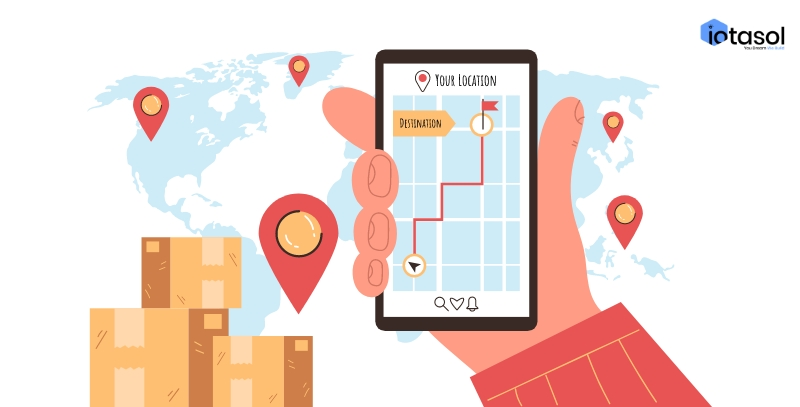 Tracking and forwarding applications provide real-time information about routes and the delivery status of goods. It provides the location of the driver at any given time so that companies can check if the vehicle is moving as per the schedule or not.
What is the cost of on-demand logistics app development?
There are various factors that affect the cost of on-demand logistics app development. It is very difficult to present a number before understanding the requirements and level of complexity of the app a company is willing to get customized for their logistics business.
Here are all the important factors that decide costing of custom logistics app development.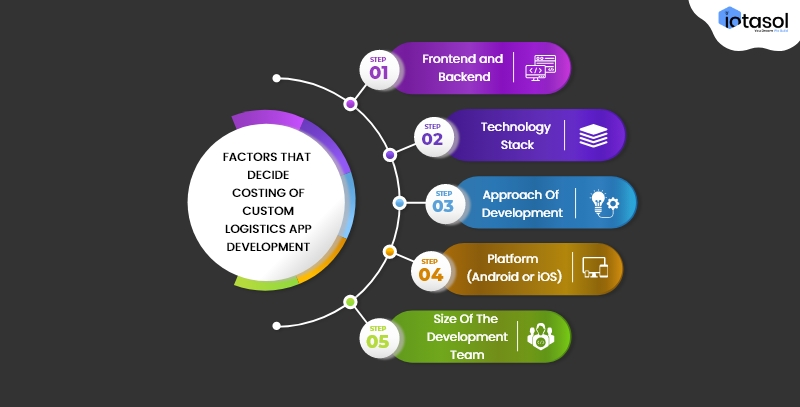 a. Frontend and Backend
The front end is all about having an excellent user interface so that the app is appealing to the customers as well as is easy to operate. A good front end leads to better engagement of the customers.
On the other hand, a robust backend is an essential element of a good logistics application. It should have the ability to operate seamlessly with a large number of users without any crashes.
The complexity of the UI, the strength of the backend, and the technologies used play an important role in deciding the cost of the logistics app
b. Technology stack
A progressive logistics app requires the incorporation of advanced and latest technologies in it. Latest technology trends like blockchain which offers secure access to data, data analytics for predicting future possibilities and understanding critical standpoints, NFC and RFID for scrutinizing bulk parcels, availability of pre-generated routes for optimum and foolproof fast delivery, chatbot for guiding and supporting customers are some of the smart features which impact the cost of logistic application development
c. Approach of development
While deciding on the developmental approach, one has to choose between native or cross-platform approaches. A native development approach builds the app for a specific operating system. But the cross-platform approach is used to make the application compatible with various platforms and operating systems
d. Platform (Android or iOS)
Device fragmentation is a major area of concern when developing the app for the android platform. Developers have to spend time and effort to ensure version compatibility, resolution of design, quality assurance, and maintenance of the android app.
On the other hand, when developing for the iOS platform, ensuring a standard of high quality as well as security testing take a lot of time and effort considering the fact that Apple is very strict with its policies and mandates.
e. Size of the development team
The size of the development team is bound to affect the cost of the app development project. Not just that, the experience and skill sets of the developers impact the charges that will be asked for. So, for a comprehensive project, which requires a big team, prices will be high. However, software development agencies can offer fixed-price contracts at competitive prices as compared to hiring a diverse team of freelancers.
These are some of the major factors that affect the cost of a logistics app development.
Summing up
A logistics app is the need of the hour in this competitive world. Companies worldwide are trying to provide excellent customer service and more streamlined processes by leveraging digital solutions. A logistics app can bring transparency, and customer satisfaction and decrease human errors in the management of transportation and logistics business.
Iotasol is a premier organization that has been in the business for more than 12 years now. We offer scalable and top-notch logistics application development services at the most competitive prices. If you are confused about how you should go about having your own logistics app, book a free consultation with our experts to have the answers to all your questions along with appropriate price estimates.
Also Read