How will 5G impact mobile app development?
Introduction
5G is a groundbreaking technological innovation that has attracted tremendous attention. 5G is supposedly going to revolutionize the way of living for people.
Like all other industries, the mobile app development industry can benefit immensely by incorporating 5G technology. It will transform the way people use mobile phones as well as bring new opportunities for app developers. They will be able to create newer ad better user experiences using 5G.
This article will reflect on the importance of 5g for the mobile app development industry.
1. Let's first understand what is 5G.
a. What is 5G?
In the simplest terms, 5G can be called as the 5th generation of mobile networks. Many mistake 5G as an improved or advanced version of 4G, But it is an entirely new network that is way faster, more reliable, and more capable.
High-speed mobile internet connectivity, faster downloads, uniform user experience, and faster communication are some of the top qualities of 5G.
With an increased number of people adopting mobile phones usages globally with every passing second, it has become mandatory for mobile app developers to create better user experiences through mobile apps to stay ahead of the competition.
This is where the importance of 5G steps in, developers can create futuristic mobile apps that provide extraordinary user experiences with the help of 5G.
2. Let's understand how 5G will affect mobile app development.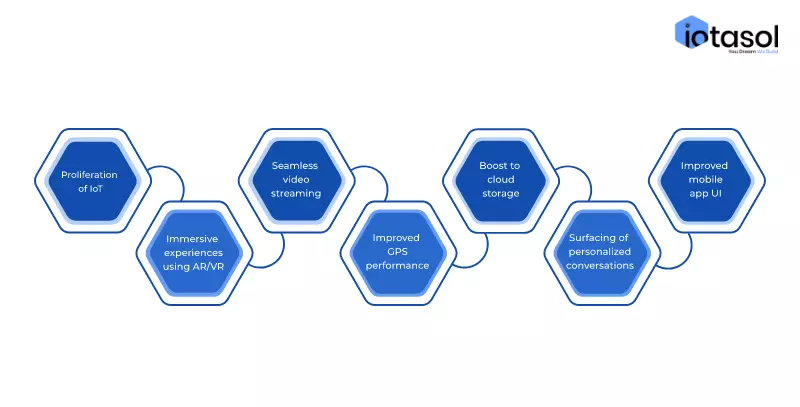 a. Proliferation of IoT
The incorporation of IoT technology will experience a boom and app developers will be able to create a lot of intelligent applications for a great number of connected devices.
The implementation of IoT will contribute to the optimal functioning of these applications while taking less power and making the most of narrow bandwidth.
5G will thus increase the overall efficiency of these connected devices, gadgets, wearable equipment, etc. with better connectivity and seamless communication. These operational efficiencies of the connected devices will in turn benefit companies in the form of greater revenue.
b. Immersive experiences using AR/VR
Network discrepancies have been a pitfall for developers for not being able to use AR/ VR in full swing in their mobile applications so far. 5G has the ability to create an immersive augmented reality experience for users through better connectivity and data transfer.
5G can overcome issues related to latency and bandwidth and help customers have an engaging user experience by transferring a higher amount of data in very less time.
The E-commerce industry can depend on AR/ VR extensively for creating personalized and immersive user experiences and making better buying decisions sitting at home and managing everything from the palm of their hand.
Thus 5G can completely change the shopping realm for good making it comfortable and profitable for both customers as well as e-commerce businesses.
c. Seamless video streaming
Owing to the faster speed offered by the 5G network, the quality of video streaming in 5 G-powered mobile applications is bound to improve manifold.
Video apps will undergo a performance boost due to decreased latency. App developers will be able to use the power of speed and high-quality video streaming for showcasing products and services in an effective manner.
d. Improved GPS performance
Navigation applications will experience a performance boost due to better speed and better connectivity of the network. These two factors will affect the accuracy and precision of the GPS in real time.
Wearable devices and gadgets will be able to perform better in terms of connectivity and lead to increased efficiency for autonomous vehicles.
e. Boost to cloud storage
5G offers the ability to transmit data at a very fast rate, almost a hundred times faster than the current 4G network. This ultrafast transmission can act as an asset for the network and communication industry.
The cloud services offered by virtual network providers will undergo a sweeping change due to the 5G because of the speed and efficiency. Shifting to cloud services will become essential for both technical as well as non-technical industries to beat the competition.
The support that 5G can extend to storage will lead to a shift of the technical infrastructure toward the cloud.
Cloud computing-based mobile app development will play a significant role for apps that include real time interaction for users.
f. Surfacing of personalized conversations
Chatbots are already there but they have not really been able to replicate human interactions and lack vitality and synergy. But, 5G opens avenues of quick responses, instant feedback, and real-time communication through Chatbots.
As per statistics, the Chatbot market will experience a rise to US$ 1.25 billion by 2025. Better responsiveness and seamless communication using 5G infrastructure can revolutionize the chatbot industry.
In the mobile app development industry, AI-based chatbots can be connected to IoT devices to help customers get detailed and clear information and make decisions without any extraneous human intervention.
g. Improved mobile app UI
A decrease in the load time is one of the major perks that 5G mobile apps will experience. The higher connectivity and speed will increase the responsiveness of apps and create seamless user experiences.
5G-enabled mobile apps will help companies retain their customers by an enhanced over all experience and decreased bounce rate.
Summing up
5G might have experienced its share of setbacks due to the pandemic but now is the time when developers are all set to explore the true potential of 5G. It has the potential to revolutionize the mobile app industry by creating enriching user experiences and giving better returns to businesses.
If building a futuristic mobile app using 5G technology is on your mind, a leading mobile app development company with extensive experience and a versatile team can help you achieve this goal.
Also Read