Role of AI and ML in ensuring mobile app success
Introduction
Evolving technology trends have opened doors of great opportunity as well as cutthroat competition in the business world. The use of Machine learning and Artificial Intelligence in the mobile app development industry has been helping businesses widen their customer base and customer satisfaction, resulting in overall business growth.
Today, most apps on each smartphone are leveraging AI and ML and the number is apps using these tech trends is only going to grow in near future. You can incorporate these technologies into your existing mobile apps for creating more immersive and interactive experiences for your customers
In the next five minutes, you will read why artificial intelligence and machine learning have gained such huge importance in the app development industry and what promises they hold for businesses worldwide.
Before we dive into the explanation of how AI and ML can revolutionize mobile app success rates, let's look at some stats related to artificial intelligence
Latest AI stats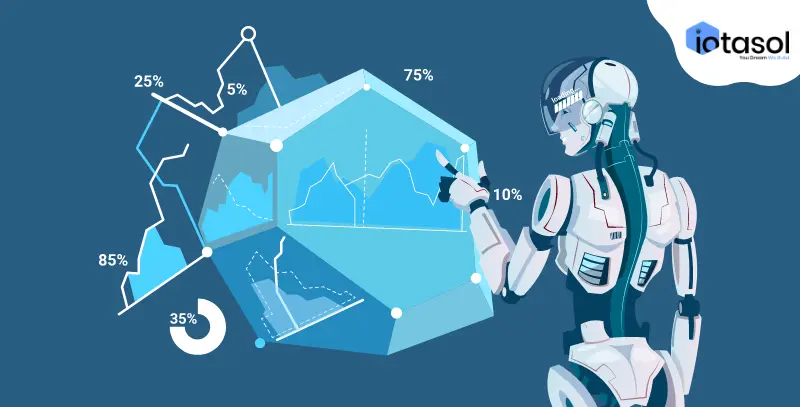 The overall valuation of the AI market is bound to experience a whooping growth of 39% each year ranging from USD 136 billion in 2022 to USD 309.6 billion by 2026.

Artificial intelligence is incorporated in almost 80% of the apps we use every day.

Out of the comprehensive AI adopters, only 1% believe that it could not meet their expectations in terms of returns.

As per the Accenture survey, 49% of the companies will spend 30% of their budget on artificial intelligence development in 2024.
How Can AI and ML contribute to mobile app success?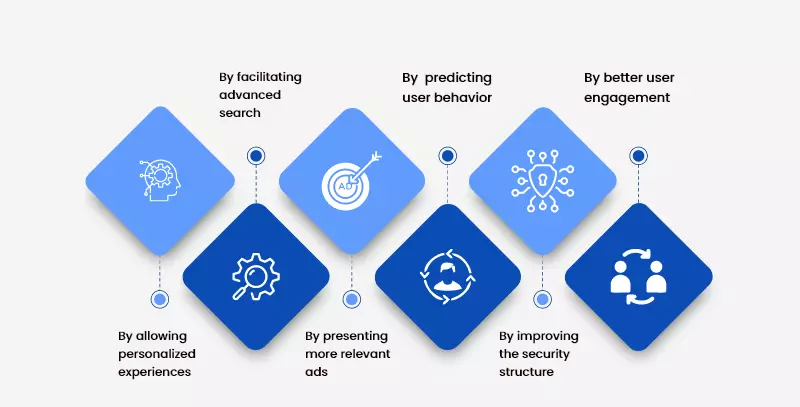 a. By facilitating Personalized Experiences
AI algorithms have the ability to provide insightful information about the user like who they really are, what are their interests, what is their budget, etc. All this information is achieved by tracking the social media activities of customers and then providing relevant recommendations. The AI-based applications can track the location as well as the previous buying history of the customers.
In simple terms, ML helps in presenting the most tempting content to the customers as per their interests and gives away the impression that the AI-based mobile app has been customized specially to cater to their needs. This leads to providing a hassle-free experience and better connection of users with your mobile app.
Big brands like Netflix, Google Pixel, Starbucks, Under Armour, etc. are leveraging AI to provide a more personalized experience to their customers.
Starbucks creates personalized customer experiences by providing offers like a free coffee offer on your birthday. Also, they track your buying history and provide customized and relevant offers that you can enjoy greatly. This is how they nurture their relationship with every customer.
Similarly, Netflix curates a 'recommended for you' list of shows and content that you will enjoy watching based on the assessment of your watching history. The fun fact is that most people pick up their next show to watch from the list of recommendations provided by Netflix only. Apart from this, Netflix personalizes the user experience by providing a compatibility score on each show present on the platform.
Contact for top-notch yet cost-effective AI-based mobile app development company in Canada, Australia and USA
b. By facilitating advanced search
AI and ML allow you to optimize the search options in your mobile applications. The whole idea behind facilitating advanced search is to present search results that are true to the context as well as intuitive. AI algorithms find the most contextually relevant results based on different queries that have been asked by the users.
Modern mobile applications have the ability to collect all the data related to the search history and typical inputs used by a customer. After the analysis of these factors as well as the understanding of behavioral patterns and search requests, the ranking of the search results is arranged in a way that could most suitably serve the needs of the user.
c. By presenting more relevant ads
AI is probably going to be the single biggest disruptor and enabler of marketing in total. It's a dream come true, from a marketer's perspective.
━ Raja Rajamannar, chief marketing and communications officer at mastercard.
Top-notch marketers believe that the key to surviving the competition in the digital realm lies in personalizing every possible experience for the customers. As per stats, 38% of marketers are already using AI and Ml for the purpose of presenting targeted ads
AI acts as a potent tool for showcasing the most meaningful ads to every single customer rather than bombarding them with irrelevant ads that only irritate them and negatively impact their engagement with the mobile application they are using.
Mobile app development companies have been able to save money and increase efficiency by data analysis using AI and removing all the non-useful, irrelevant advertisements ultimately leading to a better brand reputation.
d. By predicting user behavior
A major perk of integrating AI-based machine learning in the mobile app development process is that it becomes a medium to understand the persona of every customer. It makes use of the customer data such as the demographics like age, gender, location, etc. it aims at understanding the behavior as well as the preferences of users based on their search history and usage frequency, etc.
The use of AI-based algorithms to predict user behavior and make respective recommendations is highly prevalent in the fields like entertainment, e-commerce, etc.
e. By improving the security structure
Security breaches have been a major concern for people now more than ever before. AI is a platform that helps mobile apps robust security structure through app authentication features like facial recognition, voice recognition, etc. it allows users to set their biometric data as an app authentication step.
Once you understand the importance and pivotal role that AI can play in defining the success of a mobile app, you must discuss this with your development partner and find out if they are providing AI mobile app development services.
f. By better user engagement
Businesses can leverage AI in their mobile apps for providing 24/7 customer support and address the concerns of customers through proactive support at any given time. These automated processes can make the customers feel well taken care of as a result of which they spend more time on the app and might purchase additional products and services.
At the same time, businesses must not forget that they need to strike balance between the use of chatbots or AI-based software and human intervention. Because while AI can save time and increase efficiency, it cannot completely replace human intelligence. so, you must know when is the right time to let human officials join a conversation rather than completely depending on an automated system.
Conclusion
By this time, you are aware that why you should be leveraging the power of AI to create a versatile mobile application. The future definitely is going to be defined by the incorporation of AI and ML in the mobile app development industry.
If you have a mobile app development idea on your mind or you want to refurbish your existing mobile app as per the latest AI and ML features, get in touch with us for a consultation. We are an AI and ML software development company, using the latest tool and technologies and delivering mobile app development services across the USA, Australia, and Canada at the most competitive prices. We would love to hear your app idea and shape your reality with the best talent in the industry.
Also Read