A complete guide to understand progressive web apps and their relevance in today's age
1. Understanding progressive web apps
A progressive web app makes use of the characteristics of a mobile app in a website. It looks and behaves like a mobile app while being a website. Basically, it becomes a way for the user to access mobile device features without actually going to the app store, buying, and downloading the app.
With PWAs, eCommerce owners do not need to develop different apps for different mobile operating systems. Users can download content like videos from a PWA, which is otherwise compensated by creating a responsive design in order to provide a better user experience on a traditional website.
The aim of PWAs is to remove the boundary between native apps and mobile web as it provides features of a mobile app in a web browser. The features like the ability to send push notifications, function in offline mode, and access from the home screen are all features of a mobile app that are incorporated in the PWAs.
PWAs make use of APIs and browser plugins to facilitate easy deployment and maintenance of a website. Along with this, the use of the URLs is another leaf PWAs borrowed from a traditional website. This way, the web app can appear or reload in its current state whenever the user enters the URL.
Some requirements to make a progressive web app effective are correct sizing suitable to any device's form factor as screen size. Also, it should look and feel like a native app. The ability to work even in bad network areas or offline mode and a few page refreshers are other prerequisites to follow.
2. Features of progressive web apps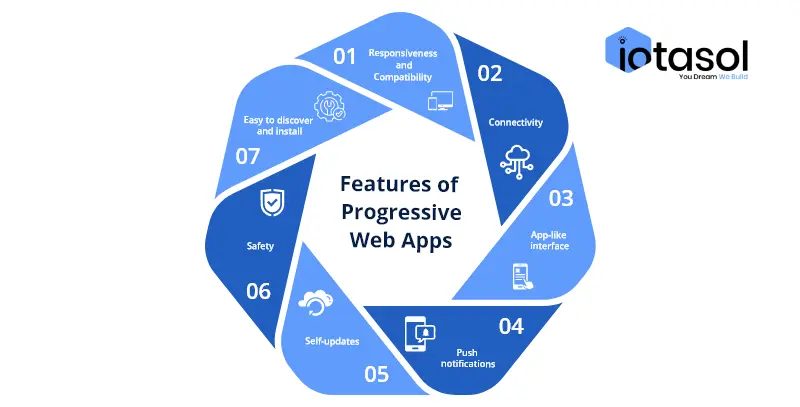 a. Responsiveness and Compatibility
The Responsiveness And Compatibility Factor In PWAs are Derived From Using Progressive Enhancement Principles.
PE refers to a principle in web design as per which you start with a rock-solid foundation and then provide enhancements and improved experience based on the ability of various users to make use of those features.
So the idea is to provide basic functionality to all, irrespective of the browsers they are using. However, more sophisticated versions are delivered to people who have browsers compatible with those features.
This way, PWAs adapt to all kinds of browsers and screen sizes. Also, the experience will be similar for people using tablets or mobile phones.
b. Connectivity
Connectivity is yet another highlight of PWAs. For a very long time, web-based applications were not preferred because of the rigid reliability on a good network. But the PWAs have taken the leap as they can perform in areas of the bad network as well as offline.
c. App-like interface
Progressive web apps have navigation and interactions like that of a native app.
d. Push notifications
Push notifications are a tool used by PWAs to keep the users interested and engaged with the PWA. Notifications are a medium of presenting new information or intimating to the user that something has been updated.
e. Self-updates
Users can have access to the latest version of a PWA without carrying out any manual updates. The only requirement is the internet connection, PWAs have the feature to update themselves automatically.
f. Safety
PWAs are secure because of being served through HTTPS protocols like any website. Moreover, because they are accessed through web browsers, they can benefit from all the modern security features offered by web browsers.
g. Easy to discover and install
While PWAs are classified as applications by search engines, we don't find them in the app stores. Rather, a URL is used to share these apps which makes them super easy to find. The installation is also very simple. All you need to do is visit a site and add it to your device's home screen.
3. Advantages of progressive web apps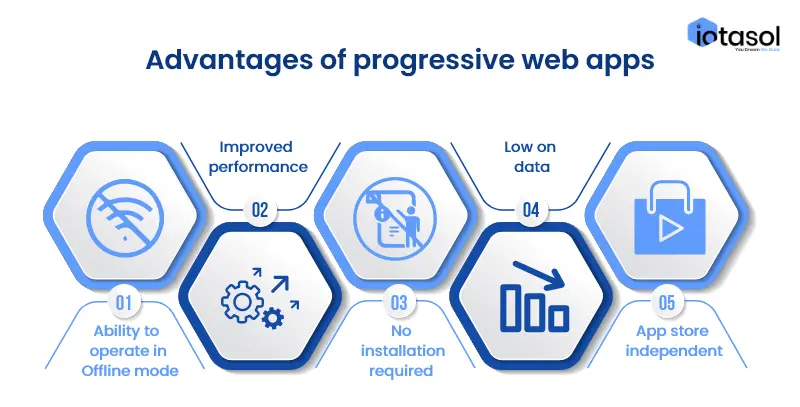 a. Ability to operate in Offline mode
One major pro of PWAs is that they can be operated even in the absence of the internet. It is highly beneficial for with product catalogs as it allows the potential customers to engage with their services or view their inventory even in offline mode thus leading to better engagement and higher revenue for them
b. Improved performance
Stats say that if a site takes more than 3 seconds to load, more than 50% of people will leave it. Also, people expect the speed to be fast and responsive once it has loaded.
c. No installation or manual updates required
PWAs like Twitter do not need to be installed from the play store or app store. Users can simply visit the URL and start using the app with a simple login process. Similarly, whenever this web app is updated, the app automatically gets updated for all new features and bug fixes.
These seamless updates are not only useful for the users but the companies using PWA have to experience lesser customer support issues and the users also don't feel irritated about frequent updates.
d. Low on data
In developing countries like India, Columbia, Africa, etc, mobile data is very expensive. PWAs are smaller in size than mobile apps and can take a lot better benefit from caching.
For instance- the PWA of Tinder is just 2.8 MB in size, however, its mobile app is 30 MB size. This makes a huge difference for people with limited data and doesn't have access to a reliable network.
e. App store independent
PWAs don't need to be on the app store and this is an advantage for small businesses because they can be saved from paying annual subscriptions of Apple or Google to get their apps published on the app store.
Moreover, it also saves developers from being restricted by Google and Apple's app development policies.
4. Disadvantages of progressive web apps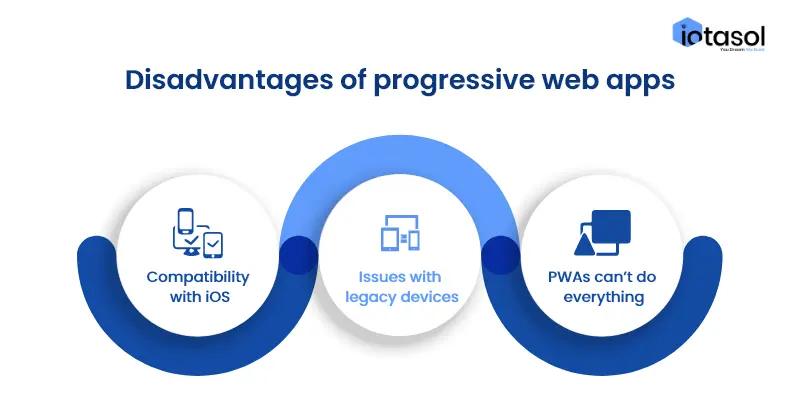 a. Compatibility with iOS
PWAs can run smoothly only on iOS 11.3 but it is not possible to have PWA compatibility with older devices. Also, Apple allows access to only limited features to PWAs and does not allow features like Touch ID, beacons, battery information, Bluetooth, etc.
b. Issues with legacy devices
Since PWAs are relatively new to the scene, there is no surprise that they do not show compatibility with old web browsers or old mobile devices. While this is an issue that won't be a problem in some years, for the time being, it is a reason for customer complaints.
c. PWAs can't do everything
While PWAs are highly capable when compared to a conventional web app, there are some things that PWAs cant do. For being written in Javascript, they are less battery efficient compared to many native apps.
5. Are progressive web apps the future of the apps?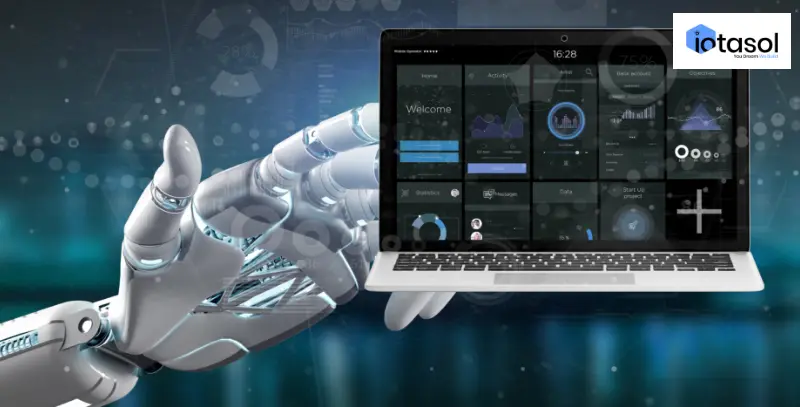 Doing thorough research and making a calculated decision is important if adopting PWAs is on your mind. A complete understanding of the technology and its impact on your users can help you make an informed decision about switching from a native app to a PWA.
Getting In Touch With Industry Experts Who Can Assist You by Sharing Their Knowledge Pool And Experience about Whether A PWA Can Serve The Purpose For Your Business Is Important.
Also Read