What makes mobile app development essential for companies in 2022?
2020 and the unprecedented times brought by the COVID-19 pandemic were terrible times for all of us. No matter which industry or location, it has affected everyone around the globe. These difficult times triggered many changes in the global market, and the first one is in mobile applications.
Mobile apps are one of the most outstanding technological innovations of all time. It changed the way we work, shop, and communicate; mobile apps changed everything. Mobile app development is one of the fastest-growing industries due to its increasing popularity.
Mobile apps offer the end-users more convenience and a smoother user experience. Whatever the niche is-retail, gaming, health & lifestyle, a mobile app helps engage with users more frequently.
2021 saw an exceeding number of apps and net usage. This number will only grow in 2022 and the coming years. The global mobile application market size was valued at $106.27 billion in 2018 and is projected to reach $407.31 billion by 2026, growing at a CAGR of 18.4% from 2019 to 2026. Thus, making it inevitable for businesses to develop a mobile app for their growth in the market.
Let us look at a few reasons why a mobile app is profitable for your business –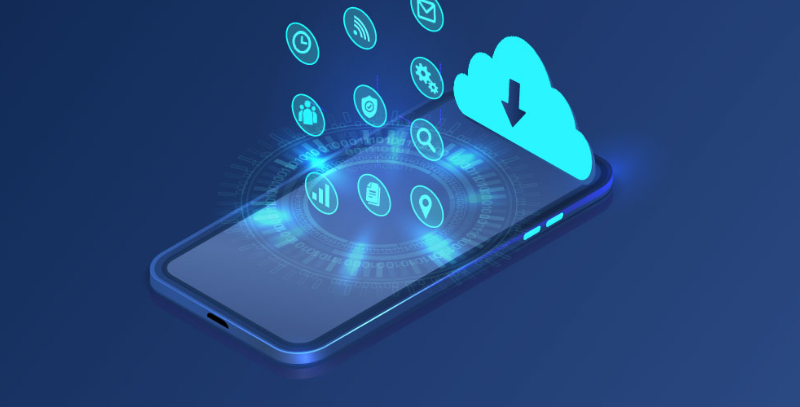 1. Brand Visibility
A survey states that in 2020, there will be 3.5 billion smartphone users around the world. People were used to their phones but the pandemic made us all addicted to them.
People are now spending more time on their phones compared to computers or laptops.
Hence, having a presence in the mobile app market can enable you to capture attention and help grow the business.
A report states that an average adult spends around 2 to 3 hours on their phones daily. Hence, your brand is visible to them anytime.
Looking to build a mobile app for your business?
2. Wider audience base
A mobile app not only helps increase brand awareness but also helps you to reach a wider range of audiences. Mobile apps are advantageous to grow and promote your business, especially the younger demographics. It is easy to reach out to diverse audiences and create curiosity about what you have to offer.
3. Marketing
A mobile app can help you create an influential marketing channel. You can provide exclusive offers, direct marketing, in-app messaging, and more.
Mobile apps have proved to be way ahead in the race between various marketing techniques and technologies for customer retention and brand loyalty. Mobile apps help increase customer engagement, induce repeat orders, and retain customers.
4. 24/7 Availability
We cannot ignore the significance of being available around the clock for a business to expand without constraint.
Today, customers want to transact with businesses that are available online at any given time, enabling them to shop anytime. Therefore, mobile app development is attaining a lot of value. The mobile app not only increases the ROI (Return of Investment) of a business by boosting its process and reaching a customer base.
Mobile apps help a business be available all the time for its end users. Therefore, 24/7 availability is priceless for every business.
5. Capability to operate offline
The vital difference between a mobile website and an app is that many mobile apps can offer primitive content and functionality to users even in offline mode
Many apps are built in such a fashion that they can work both - online and offline. Maybe not all functions would be available to the end-users even when not connected to the internet.
6. Freedom in design
Perhaps the best thing about mobile apps is that they help you deliver a remarkable customer experience and stay one step ahead of the competition. With a slick User Interface (UI), well-thought-out User Experience (UX), and a list of features, you can create a truly great customer experience.
Mobile apps do not have any of these constraints and get designed with several elaborate functions based on advanced gestures like- tap, swipe, hold, click and many more.
Mobile apps help you boost the level of user-friendliness and customer service you provide.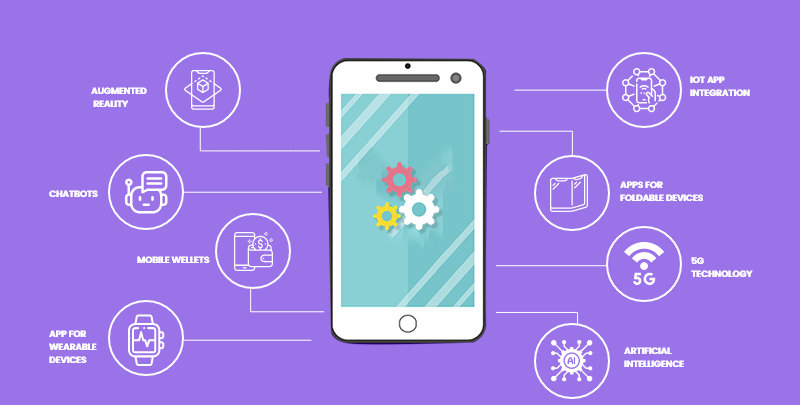 1. M-commerce
Similar to e-commerce, M-commerce is now gaining popularity. The pandemic triggered a spike in the use of mobile apps globally. The consumers and retailers both were "forced" to go online. Research says M-Commerce accounts for 72.9% of global e-commerce sales so far. The industry is expecting to generate billions of revenues by 2021 that will continue to grow. Businesses that already have e-commerce are now focusing on promoting mobile commerce.
Two main ways are: PWA (Progressive web application) and developing own mobile apps. It is a great way to switch from e-commerce to M-Commerce. Entrepreneurs who want to succeed choose the mobile processor to promote M-Commerce.
2. BYOD
BYOD (Bring Your Device) is a trend where everyone - from large companies to small startups, plans to enter into the possibilities of bringing their device (BYOD). Even the companies allow their employees to use their smartphones and tablet devices for corporate work, helping save a lot on device purchases.
However, BYOD has its pros and cons. If you hire a talented BYOD application development company, all the holes in the foundation will be closed and fixed correctly. BYOD has been on the rise, and soon we can see this as one of the notable impacts of mobile technology on business.
3. eMobile Wallets
e-Mobile wallets such as Google Pay, PhonePay and Amazon Pay are trending in users today as more and more people opt for a cashless payment approach. The use spiked up, especially during the covid pandemic; it was a safer bet compared to cash or handing out their credit cards.
E-Mobile wallets are very popular with core users. Users don't want to have to use their credit cards or worry about currency exchange as the economies of different countries are improving. For quick transactions, they prefer to pay via the mobile wallet.
The instalment process is faster and easier and lets users pay on the go!
To sum it all up,
Mobile app development is crucial to keep up with the competitive market, as it enables any business to grow and flourish not only in 2022 but beyond. Experts predict that mobile apps are the future, and every industry must have them.
Having said so, one needs to use excellent technologies to have an edge over the rivals and surpass them to generate more revenue. To offer the best product or service to users is the key to sustaining and leading the competitive market.
Businesses are going digitally with their product and service to help them market their services and gain customers.
Users are now using their phones for every other need, and mobile apps are completing it as a whole with on-demand apps and other functional applications.
Conclusion:
If you are looking to develop an app that monetizes your business, Iotasol is here to help.
We are an experienced mobile app development company and have an exclusive app development service offering end-to-end app development services that go beyond your expectations.
In case you want to learn what things to consider before you design and build the mobile application or the cost involved in mobile app development in 2022, contact us now! We are here to help and answer all your queries.
Also Read