How can adopting Digitization affect wholesalers and manufacturers?
Ever since the world has been affected by Covid 19, the adoption of technology for smooth business operations under any circumstances has gained unprecedented importance.
The importance of digital processes for wholesalers, distributors, and manufacturers has also been established all the afterlife went into a bubble. Whatever the scenario at the outset of the world, the show of supplies and necessities must go on. And technological solutions can assure this in difficult times as well.
If you are a manufacturer trying to figure out how digital trends can add value to your business or a wholesaler willing to streamline your business operations, this article is for you.
5 ways Wholesalers can benefit from digital solutions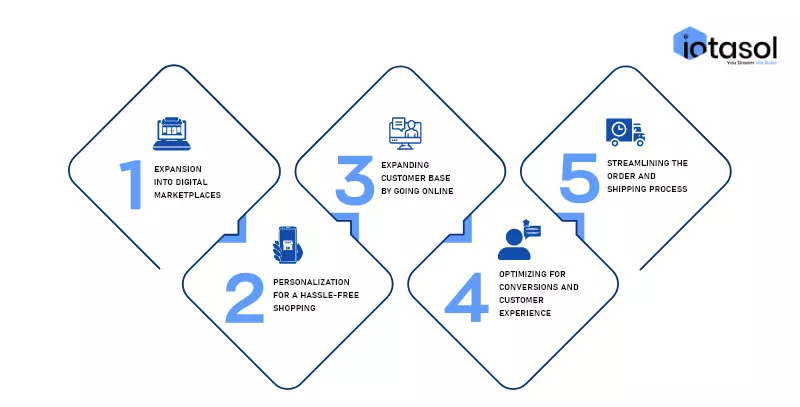 a. Expansion into digital marketplaces
Prominent digital marketplaces like Amazon, Alibaba, etc. have proven to be great platforms for B2B sales. It is projected that the number of B2B sales in these marketplaces will be double as compared to B2C sales in the coming years.
So, wholesalers and manufacturers can use these marketplaces to showcase their products to different B2B prospects by listing themselves on these marketplaces and use different channels to sell their products.
b. Personalization for a hassle-free shopping
Personalization when it comes to B2B selling can play an important role in streamlining the operations for both wholesalers as well as their B2B customers.
Digital solutions can help personalize the shopping experience such that businesses can have a look at their previous orders and repeat the orders with a single click. Other features and benefits that digitalization can offer include specially curated catalogs and prices for specific customers to streamline the entire buying process.
The ability to create wishlists, make hassle-free one-click payments and manage their profiles are perks offered by personalization that take a lot of load off the shoulders of both wholesalers and their prospects.
c. Expanding customer base by going online
As per statistics, 93% of buyers prefer to buy things online once they know what exactly to buy.
Having stated that, there is no doubt that the scope of selling online is only going to rise in the near future. Customers these days want to conduct thorough research on various aspects of any product before buying it. They like to get clear estimates on pricing, offers, reviews, quality, etc, and online becomes the medium for that.
At the same time, the sellers are constantly looking to grab more customers by better deals, higher quality, easy checkout, return or exchange offers, etc. So, wholesalers definitely should leverage the trend of merchandising their products on digital platforms for a bigger and better customer base.
d. Optimizing for conversions and customer experience
Optimizing your website for providing a great customer experience can act as a customer-attracting magnet for B2B buyers. The importance of factors like easy product search and an effortless checkout process can not be denied. Other important factors related to customer experience include transparency into the supply levels as well as the ability of customers to self-serve
Taking inspiration from some of the best wholesale websites and creating an impactful web shop that not online streamlines the customer experience but also manages well the processes at the back office becomes very important.
Apart from this, an intuitive design, impressive branding, architecting the information and search results, stating clear guidelines and best principles, and search engine optimization together play a significant role in defining the user experience and ultimately the success of your wholesale business.
e. Streamlining the order and shipping process
B2B order management and shipping is a complex affair. Maintaining a proper record of the materials shipped is another important factor.
As per stats, 46% of wholesalers manage their order cycles manually whereas 19%donot keep track of their orders which leads to a number of confusion and problems.
Order management software can help in creating end-to-end workflows and provide real-time inventory updates. order management software can also assist when they need to stock their inventory thus eliminating the issue of understocked or overstocked inventory.
Iotasol has created software solutions for wholesalers that could help them automate the process of booking orders, making payments with one click as well as managing the entire shopping information using a QR-based system.
Conclusion
Digitization of any wholesale business can help them reap the following benefits.
Acquiring new customers

Customer satisfaction

Efficient processes

Elimination of human errors

Easy payments

Better inventory management

Transparency in operations
With neck-throat competition on a rise, new players are entering the wholesale market on a daily basis. Technological advancement is one way of staying ahead of the competition and establishing a long-term reliable relationship with your customers.
Iotasol has done some impactful work for clients in the wholesale industry. We have created digital process that helped them streamline all their internal processes as well establish a good rapport with their customers.
If the idea of starting your process improvement journey as a wholesaler overwhelms you, we have the methods to help you take small steps with minimum investments, to begin with. You can book a free consultation with our growth experts to get a roadmap ready.
Also Read