Android v/s iOS: Which one should you develop first?
2020 and the unprecedented times brought by the COVID-19 pandemic were terrible times for all of us. No matter which industry or location, it has affected everyone around the globe. These difficult times triggered many changes in the global market, and the first one is in mobile applications. Mobile app development is steadily growing.
2021 saw an exceeding number of apps and net usage. This number will only grow in 2022 and the coming years. The global mobile application market size was valued at $106.27 billion in 2018 and is projected to reach $407.31 billion by 2026, growing at a CAGR of 18.4% from 2019 to 2026. Thus, it is now inevitable for businesses to develop a mobile app for their growth in the market. Telehealth, education, and numerous other industries have also displayed an extreme need for mobile apps to help them acclimate.
When opting for mobile app development, there are two primary platforms to choose from- Android and iOS. Both are indisputable leaders of the mobile app market by presenting outstanding development options.
The latest report by Statista says Android maintained its position as the leading mobile operating system worldwide in June 2021, controlling the mobile OS market with a close to 73 per cent share. Google's Android and Apple's iOS jointly possess over 99 per cent of the global market share.
While many businesses push their built mobile app on both these platforms, some choose either of two platforms.
Hence it is vital to look at an in-depth iOS vs Android comparison before deciding which one to go with first?
In this blog, we will see the pros and the cons and which one should you choose to develop your mobile app.
Deciding whether to build a business app on Android or iOS (Apple) depends on 5 factors:
Audience 

Project timeline

Desired app features

App maintenance budget

Revenue goal
Let us understand each in detail.
1. Audience
The crucial difference is the end-users both Android and iOS attract.
While Android is said to have a commendable global market share, Apple dominates the App Store for customer spending.
Consider your target audience's geographic and demographic attributes when deciding which platform to develop first.
If you're targeting a broad global audience, Android may be your best bet.
2. Timeline
It is faster, easier, and more reasonable to develop iOS mobile apps as the development time is longer by 30–40% for Android.
The primary reason for this is it is easier to design the code for iOS mobile apps and written in Swift, Apple's official programming language.
Mobile apps for Android are an open-source platform and are written in Java, a language that involves writing more lines of code.
Looking to build a mobile app for your business?
3. Flexibility With Features
One of the questions you need to ask is- What features will you offer through your business app?
Android is open-source. Hence, it provides more flexibility to customize your app, building the features and functions that your audience wants.
The open environment suggests that Android is more susceptible to pirate apps and malware compared to Apple.
Due to its closed nature, which is why iOS has a larger audience in the enterprise market, iOS apps are considered to be more secure.
4. Maintaining App
Developing for Android may imply spending more time assuring that your app remains compatible with the platform and avoiding bugs or crashes for users running on older operating systems.
A study suggests that Android users are slower to adopt new operating systems compared to iOS end-users who are willing to keep their devices up-to-date.
5. Revenue
If app monetization is your goal, you must be aware of the fundamental difference.
Android users tend to be less inclined to pay for apps than iOS users. Hence, free apps with in-app ads are typical.
However, Apple App Store generates twice as much revenue as Google Play, despite having half as many downloads.
Now let us look at the pros and cons of developing mobile apps on iOS.
The benefits of developing for iOS are as follows: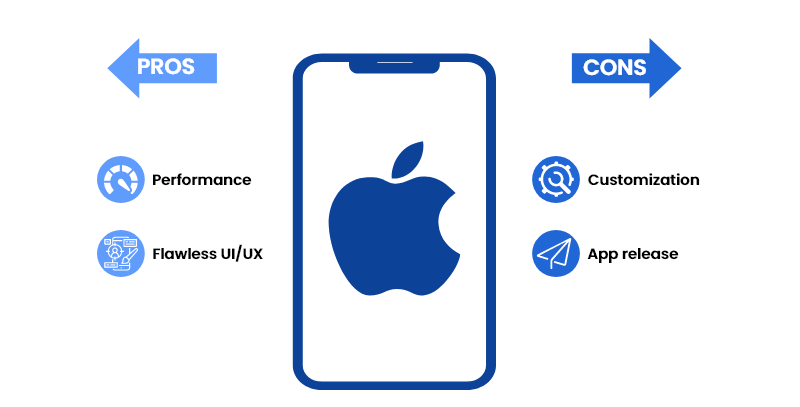 1. Performance
The top reason why iOS mobile apps are loved by the end-users is their ability to perform exceptionally. The platform is fast, reliable, and easy to use
2. Flawless UI/UX
Apple provides developers with explicit guidelines for the creation of a user interface for their apps. This approach generally ensures an exceptional user experience.
The cons of developing for iOS are as follows:
1. Customization
iOS limits your ability to customize the app's interface. Hence, it may be tough to add some features if they need interaction with third-party software.
2. App release
The App Store is choosier compared to Google Play. Sometimes, even if your app doesn't break any guidelines, it can still be rejected.
Now let us look at the advantages and disadvantages of developing mobile apps on Android.
The benefits of developing for Android are as follows: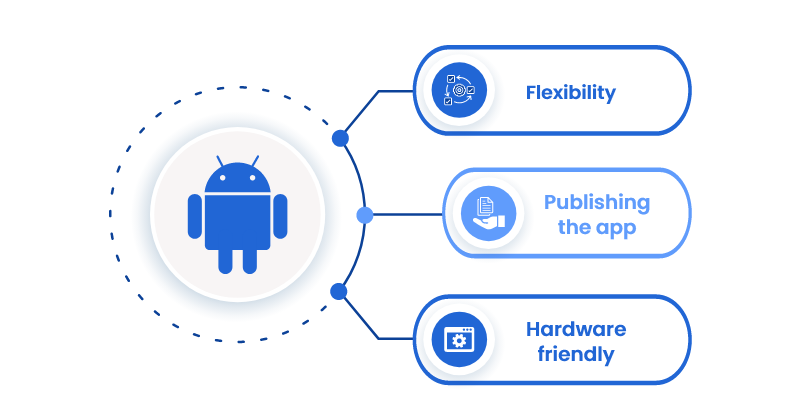 1. Flexibility
Android tends to present a much less restricted environment than iOS. These apps will practically run on any Android device, and you are improbable to experience any issues with hardware compatibility.
The development process is also more flexible for Android.
As the apps are coded in Java, a universally versatile programming language, allowing Windows, Mac OS, and Linux developers to build Android apps regardless of the Operating System their machine runs on.
Still confused on which one to choose first?
2. Publishing the app
Google now has become less receptive towards the apps the developers publish on its Play Store. The automatic review procedure now may take up to a week for new developers. Also, a majority of Android apps that do not violate the company's content policy get approved.
Also, now the mobile app developers have to pay a moderately low and one-time registration fee of $25.
3. Hardware friendly
Android apps are built for an entire ecosystem of Android devices and several other platforms. This flexibility may create design issues, but it also bestows you the power to integrate your app into users' cars, TVs, and smartwatches in addition to phones.
The drawbacks of developing for Android are as follows: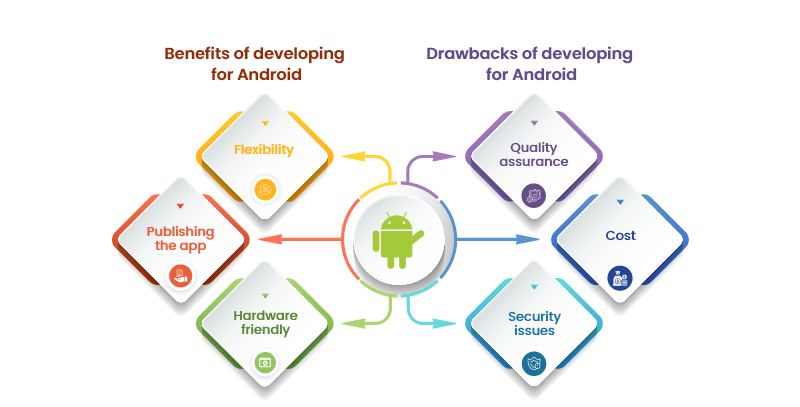 1. Quality assurance
Android apps make testing them exceptionally complex. Even in the simplest apps, developers often have to provide fixes because many end-users stick to the older versions of the operating system instead of updating it as and when available.
2. Cost
Developing for Android is usually more time-consuming and hence, the costs increase respectively, both in development and subsequent quality assurance.
Users spend less inside the app
As Android users tend to favour free apps, they also expend less on in-app purchases.
3. Possible security issues
As Android is an open-source platform, it has a higher chance of falling prey to cyberattacks.
Now that we are knowledgeable of the pros and cons of Android and iOS, let us now determine which one to go with first?
Factors like where your audience resides, demographics, the features they are looking for, development timeline and budget determine whether you should build a business app for Android or iOS first.
If you need to build a minimum viable product quickly, to make money with your app, or in a budget-friendly way, iOS would be a better option.
However, if you're targeting global or emerging markets, if your app involves features that Apple doesn't support, then Android is your best bet.
You can also choose a hybrid app solution for your business.
Hybrid development allows you to develop on both Operating Systems simultaneously.
Whichever platform you choose, once you've worked out the irregularities and built a user base on your initial platform, you may find that users on the other platform begin asking for a version of your app.
To wrap up, both iOS and Android OS are popular mobile app platforms. What you must choose for your business largely depends on your requirement, budget, and preferences.
Are you still bewildered and not sure which way to go?
Get in touch with us to discuss your project requirements. We will help you select the right option for your business. We are a leading Software development agency designing and developing custom mobile applications for both iOS and Android platforms. Our mobile app developers have the expertise to create mobile applications using the latest technologies. If you want to take your business to new heights then take advantage of our professional and innovative mobile app development services.
Also Read